Breakfast with a hint of romance
A vital, fresh and delicious start in your day
Creative, seasonal and healthy: The breakfast buffet at the Romantik Hotel Stafler would leave nothing to be desired: whether you like your breakfast light and healthy or spicy and hearty, we´ve got you covered.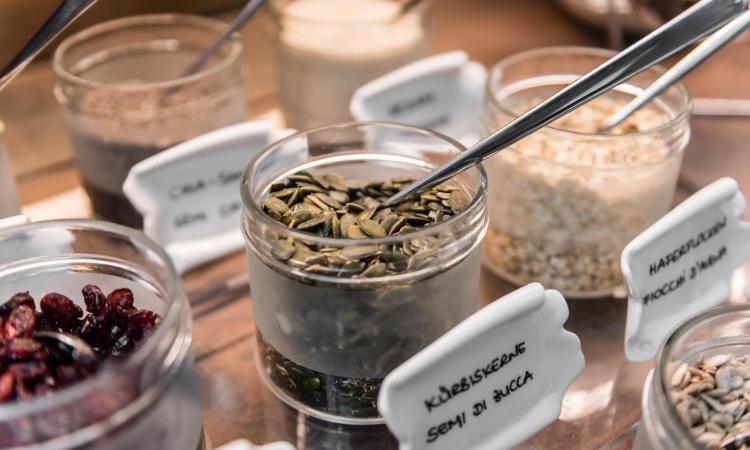 Have a nice cup of tea or coffee, a glass of fresh juices to have a perfect start to a lovely day.
Most important to us is, that the products we are using are regional and fresh. These are some of our suppliers:
Milchhof Sterzing (dairy)

We obtain milk, yoghurt, cheese and butter from the local and award-winning dairy at Sterzing. Taste the quality for yourself. And you have to try the home-made farmer´s butter. Delicious!
Meat and sausages

We proudly serve the best meat products to you, like the bacon made at the farm or sausage specialties from local producers. The tastes and flavours will make your heart sing!
Jams and toppings

Sample our home-made jams and toppings, maybe each day a different one? Souschef Andreas is the king of delectable jams, adding a little spoon of love to each glass. If you like, you can also take a glass of jam at home: just stop by at the farm shop.
Honey
Busy bees collect pollen all summer long to produce our delicious honey. Taste roses, chestnuts and lime blossoms, or try dried pollen with your yoghurt: a healthy and tasty option.
Cereals
Wholesome birchermüsli , cornflakes or Choco pops: a wide range of cereals can be found at the breakfast buffet. Enjoy!
Bread and pastry

Every morning freshly baked bread and pastries are ready for you to be devoured. Muffins, croissants, little cakes and tartes, wholesome bread, rolls and many more. Have a try!
Egg dishes
Please order your egg dish exactly the way you like it: scrambled, soft boiled, with bacon or ham, you only have to ask. Naturally all eggs are free-range eggs or from our farm.